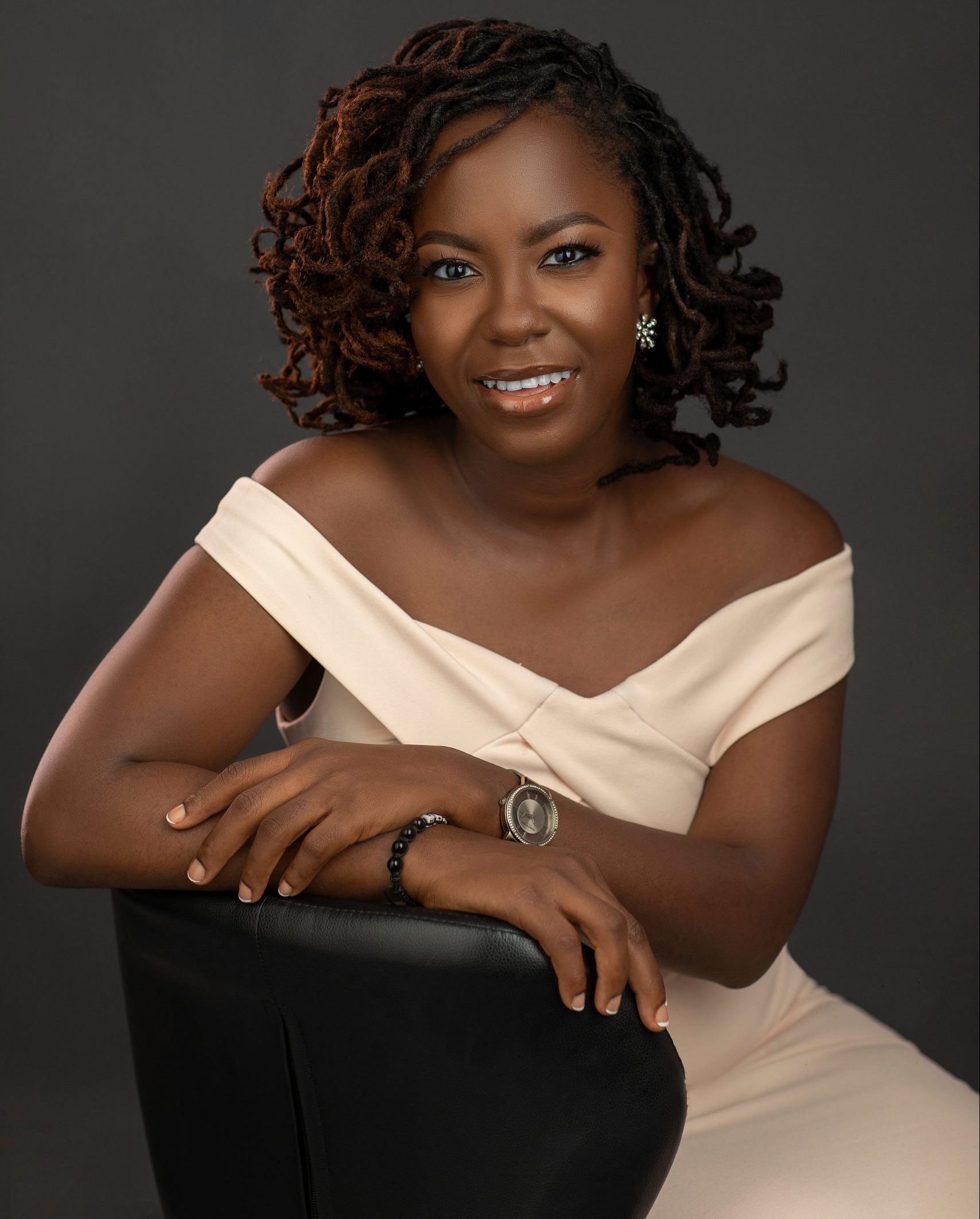 Hi. I am Atilola, the founder of African Naturalistas, and the trichologist at African Naturalistas Hair Clinic, where we treat and manage over 50 hair and scalp disorders. I have been helping women grow long and healthy hair for the past 8 years, having personally helped over 200 women grow their hair, and solve their hair loss issues. When it comes to hair and scalp care, I can boldly say I'm an authority
I get tons of daily emails from women asking me to help them with their hair issues, and I obviously cannot attend to them all. In fact, these emails and requests to help one woman here and another woman there are weighing me down. What started as pure love and passion is now almost becoming a burden, but it won't be.
I have therefore created the AN Superstar program to help 20 selected women, who are ready to invest in their hair care journey, solve all their hair and scalp problems, and grow long and healthy hair for one year. If you get to be part of these superstars for the next one year, you will have unbridled access to me, my products and service offerings.
The AN superstar program is a holistic program, where I will hold your hands and walk you through every single step you need to take to get your hair and scalp where it needs to be. I will take into account, your unique situation, products and personal regimens to follow. I will be all over you like a rash, nudging you regularly to do things right.
Everyone under this program is referred to as a superstar because I believe the women who have overcome one hair loss issue or scalp disorder for one reason or the other are the real heroes and worth being celebrated. These are the people I will hold out as evidence to uphold the fact that you can still have healthy hair despite the odds
However, as this program is intensive, and I intend to give it my all, I can only work with 20 women every year. Once I select 20 women, I won't take anyone on again, and others will have to join the waiting list. Please note that I might not take you if I don't think we are a good fit to work together. See below for more information to know whether you are the right fit for the program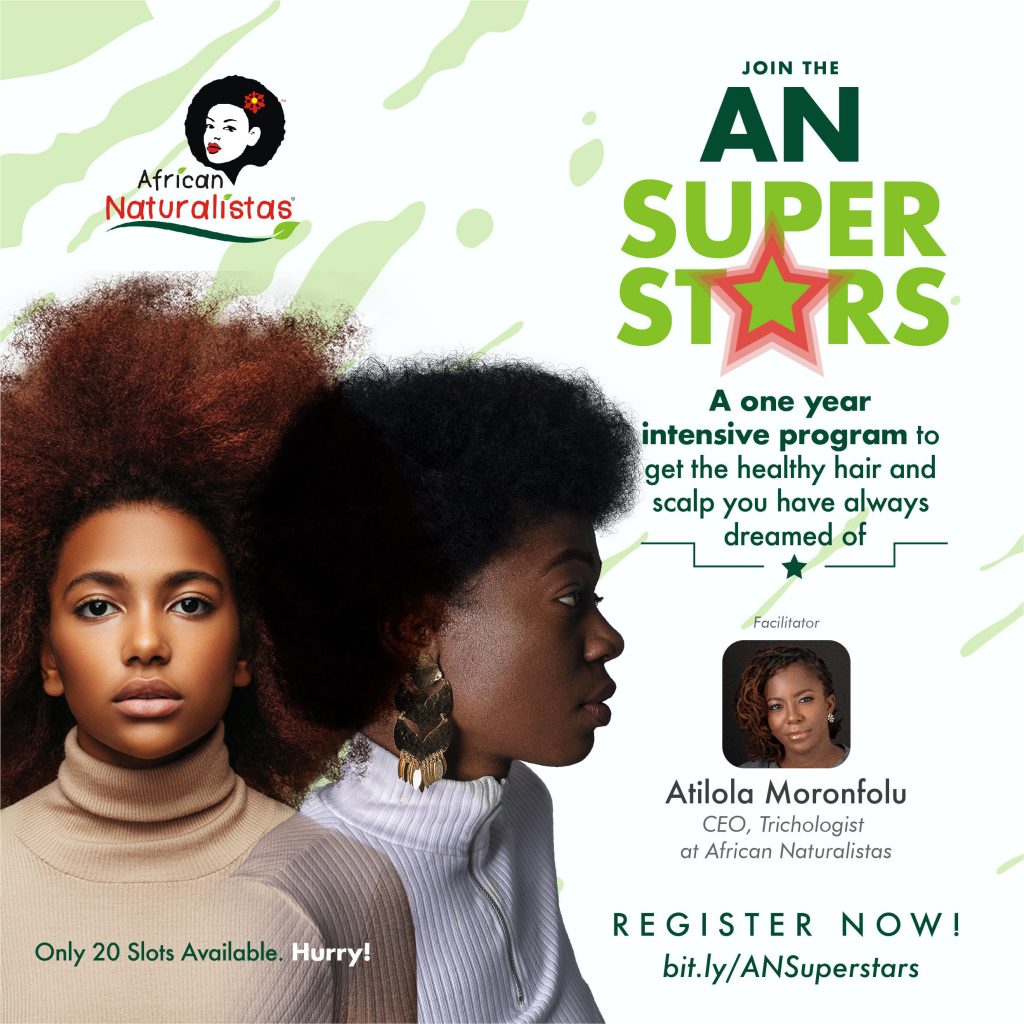 This program is meant for you if...
This program is not for you if...
Frequently Asked Questions
Atilola knows her onions to the core and I can't believe she shares this knowledge for free. I have paid a lot to be coached by hair coaches, and what I have gotten is nowhere at all compared to what Atilola freely gives. She dissects each matter with such intricacy and energy. She's clearly driven by passion to help people grow healthy hair without the monetary gain being her main focus. She captures all the different types of hairs in her analysis and I love that because everyone's hair is not the same. I can boldly testify that all that I have learnt Atilola and effected in my hair care journey have been tested over time and have shown tremendous results. I can't thank you enough Atilola.
I came across Atilola when I decided to embark on my natural hair journey. I never understood why all my friends had thick full hair which could grow should length but I could not. I was not that impatient but I just struggled even if I did exactly what all my friends did. Then I started watching all these YouTube videos. A friend encouraged me to follow African Naturalistas for natural hair ideas. The problem is I was in South Africa and they were in Nigeria. So I bought all the natural oils and butters but my hair still struggled so I resorted to braiding day in day out. I lost my hair line and my hair never looked healthy even after I removed the braids. Then I got Atilola's "Intensive Hair Care Regimen". I followed religiously even though I did not have the products from African Naturalista. Six weeks later, my hair is thicker and I have started seeing the texture of my hair. I am very impressed with the texture and now my friends are starting to ask me for advice. Thank you Atilola.
Every time Atilola offers her expertise on hair care, I am wowed! She is not just a hair care specialist wannabe, she is trained and fully grounded in the knowledge of her trade. I love the fact that she does not try to force her products on you, but offers you proper diagnosis and treatment. Her methods are scientifically tailored to your needs and she is the most dedicated specialist I have met; dedicated to helping you achieve long and healthy hair. If you think your hair is written off, then try Atilola.
In the little time I have known Atilola, she has me realize many factors that has affected the healthy growth of my hair. She has guided me on how to develop a regimen for healthy natural hair, on how to minimize breakage, dos and don'ts to achieve healthy long natural hair. I have been able to understand my hair porosity and what best works for it through her guidance. Now I understand better the science behind hair and how best to treat my hair to achieve my long, healthy hair goal. I also need to add that I got the African Naturalistas regimen for damaged hair and I have been diligent with it. I can see results already and I can't wait to smash all my hair goals for 2020.
Being a natural hairstylist, knowledge is power and continuous improvement is key!! I've spent some time under Atilola's expertise, and I have learnt so much. I must confess Atilola knows her onions!!! Gadammit!! She is a professional to the core. She takes the most serious hair and scalp issues and breaks them down to the most basic level. Her passion for healthy natural hair is unrivalled!! Thank you Atilola!! Thank you African Naturalista for being so passionate and selfless.
When I started my natural hair journey I was at a loss for what products to use. I searched online and discovered African Naturalistas. The name was quite fascinating and I didn't realise it was owned by a Nigerian. I haven't met Atilola in person but I belong to a tribe of women whom she has helped to take better care of their hair. Atilola is a very detailed and precise person who takes her time to not only tutor but also answer myriads of hair questions from her tribers. I am indeed grateful. I have better knowledge of hair care management and my hair, as well as my daughter's hair, is doing very well. I recently purchased a hair care regimen book from her which I currently use as a daily guide for my daughter and I.
Your Investment and Benefits
The Superstars

/Annually

155
One 30 minute trichology sessions every two months- 6months (costs $225)
One year Personalized Hair Regimen calendar (costs $34.99)
Bi monthly trichology report (can be used for other medical purposes)
Lifetime access to my private hair care tribe (valued at $500)
10% discount on all African Naturalistas products (valued at $10)
Originally valued at $770
The Super Superstars

/Annually

250
One 30 minute trichology sessions monthly - 1 year (costs $450)
One year Personalized Hair Regimen calendar (costs $34.99)
Monthly trichology report (can be used for other medical purposes)
Lifetime access to my private hair care tribe (valued at $500)
20% discount on all African Naturalistas products (valued at $20)
Originally valued at $1005